Deciding where to put your perennials within the garden area is just as important as deciding which ones to plant. Sure, you can just go to your yard and start digging, but if you really want your perennials to grow beautifully and make a great impression on the property, you will need to do more than just knowing which flower to plant. You need to know the best site to put your flowers where they can grow healthy, show their beauty, and light up your home.
To figure out the best place for your flowerbed, you will need to take out your first set of tools: a pencil and paper. The first step is to draw out sketches in order to measure the advantages and disadvantages of each potential location. Next, you need to figure out the size of the flower bed to know exactly how many plants and flowers you need to plant to fill up the specified area. Planning your garden this way reduces the number of potential mistakes  you could make as you create your landscape of perennials. Keep in mind that it is much easier to correct mistakes on your paper than to correct them in your garden.
Location, Location, Location…
When deciding on the perfect site for your flower bed, make a general inventory of your property. This is easier to do if you have a "plat plan". A plat plan is a map that shows detailed sizes and boundaries of your land, as well as the placement of structures. If you do not have one, draw a simple diagram of your land area. You do not have to know the exact measurement of the boundaries and structures. However, make sure that you show the shape of all boundaries and the position of all structures.
Before we discuss further about the planning, it is also important that you have the proper tools for gardening. Without all the necessary tools it is impossible to have a well maintained garden.
Here's a list of tools most garden center and nursery experts recommend:
Two shovels:  One should be a spade with a pointed tip and the other a flat-headed model. Both should have wooden handles at least four feet long.
Pruning shears: A good pair of sharp shears is a vital member of any gardener's tool collection to keep roses and shrubbery looking nest. Bypass the cheapest and most expensive models in favor of a mid-priced model.
Loppers: A long-handled cutting tool that can cut through heavier rose canes and through tree branches up to about an inch in diameter. We will be discussing how to buy the best loppers in UK later in this article.
Two Rakes: A wide bamboo rake for light raking that involves collecting relatively lightweight garden debris and a heavier straight metal model for serious soil preparation.
Hedge shears: Long-handled, flat-bladed hedge shears are designed to cut evenly across both horizontal and vertical planes.
Tank sprayer: Because it's difficult to completely clean tank sprayers, separate sprayers should be purchased for herbicides, fertilizer and insecticides.
Garden hose: Don't buy one that's too long or too short for you to comfortably use; a 200 foot long hose in a 25 foot wide garden makes no sense at all, nor does a 50 foot hose for a half acre lot.  More expensive hoses withstand the temperature extremes of summer and winter much better, and spending the extra money for a kink-free hose is well worth the frustration it will save you. Buy a rack or hose reel to keep your hose in shape.
Wheelbarrow or lawn cart: A wheelbarrow is the more versatile choice, usable for moving dirt for a new plant bed to mixing concrete for a patio fix. However, if all you need to do is move leaves, carts are cheaper and are not as heavy.
Spreader: Spreading fertilizer by hand causes some areas to get too much fertilizer while other areas get too little or none at all. Spreaders help all areas get the right amount.
Push broom: For keeping walks, driveways and patios free of lawn clippings or dirt from your gardening adventures.
Compost tumblers: This is not exactly a tool but still a very important component that you should own. It is container that is fully sealed and can be rotated either manually or automatically to mix the composting materials. We will also discuss why composting is so important and why you need to have a good compost tumbler in UK later in this article.
Other tools: A hand-held hoe, heavy cotton gloves, a string trimmer, pruning saw, mower, hand trowel, big floppy gardening hat and watering can.
Tools are important to a gardener; they allow you to tend to your garden and complete chores with ease. Keep your eye out for end of season sales! This is the best time to purchase excellent quality gardening tools at a great price.
Now back to planning.  Take a walk around your house and note down specific items that are listed on the diagram. If you have decided that you want the perennials in a specific site of your property, do an inventory of that area only.
The following features should be included in your diagram:
1. Relevant structures around the house such as shed or separate garage. Also include the location of driveways, sidewalks, sprinkle heads, drain spouts, terraces, decks, walkways, doors, windows, fences, overhangs, retaining walls, valve boxes, and built-in barbecues.
2. Include trees, plants, shrubs, and lawn areas that you already have. If your neighbors have any trees, shrubs, or hedges that shade your house, also include it in your diagram.
3. Look for ponds, ditches, streams, and slopes. Indicate erosion, low places, or any wet areas. Also indicate boulders or rocks.
4. Label the area that gets the most sun as well as the area that gets the most shade.
5. Mark the location of utilities such as boxes, meters, utility poles, underground wires, fire hydrants, water faucets, etc. Remember to contact the utility company before you start digging so you don't accidentally dig into any underground electric wires.
Why Prune and how to buy a good lopper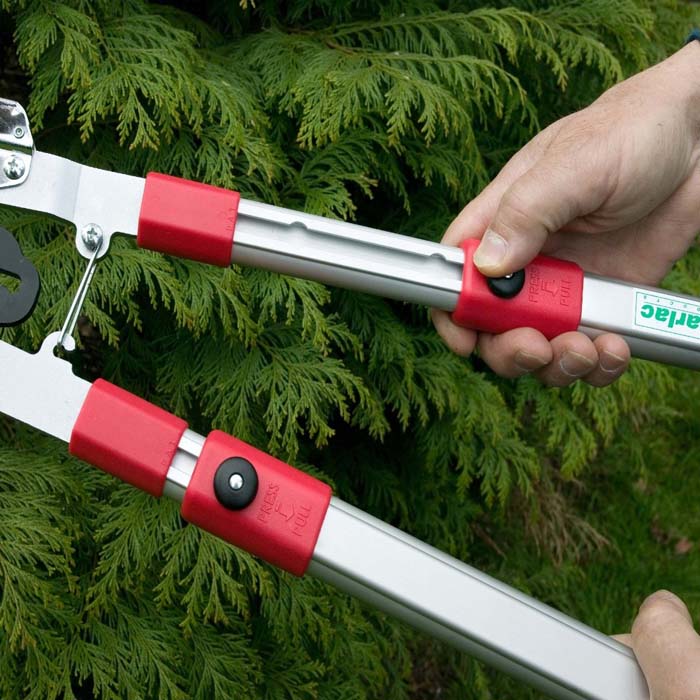 Too often, plant maintenance is overlooked. It's important to note that pruning a tree isn't simply just for looks. Pruning becomes more important for fruit trees than for other trees because you are creating not just a pleasing shape, but a shape that will help the trees to bear high-quality fruit. Pruning in the late summer or early fall can stimulate new growth that may not harden off before the cold weather. There are several benefits to a well maintained landscape besides aesthetic purposes.
While it may make the tree and landscape look much better in the end, there are multiple other reasons and benefits that come with pruning a tree.
Left unpruned, heavy upper foliage will shade lower parts of the tree, inhibiting formation of fruiting wood.
This is not a concern during the winter.
Sure your home's exterior property will look much more presentable, but pruning and trimming also allow for proper plant growth, as well as helping to control insects and plant related diseases.
Pruning not only helps with walkways, but it also helps with traffic sign views.
Eventually, fruit production will be limited to the tips of the high branches where sunlight is present.
Winter pruning is good for your plants, leaving them with extra root and energy reserves to quickly heal wounds and support vigorous spring growth that will obscure the pruning cuts. Often times tree limbs can grow in front of a street sign making it difficult for drivers to read, which in turn has the potential to cause a disruption in the flow of traffic on the road.
Now as we have discussed about the importance of pruning, You should also know how to prune and what tools that are required for proper pruning. Though pruning can be done with various tools, the most important in our opinion is lopper. Loppers are essentially pruners with long handles. A good set of tree loppers make light light work of those heavy garden pruning tasks that secateurs can not cope with. Secateurs and Hedge Shears are good for trimming or pruning the skinny limbs of plants but there are times when pruning involves the removal of limbs thicker than your thumb. Remember, the more parts and the more complicated a lopper looks like, the higher the likelihood of having difficulties when using it. They're used mostly to prune out twigs and smaller branches (up to 2 inches in diameter, depending on the lopper). The long handles allow you to reach higher/farther and give you the leverage you need to cut thicker branches.
Anvil vs Bypass lopper
With so many models and variations in can be daunting (and a waste of money) to purchase loppers only to find they last 5 minutes and promptly sent to landfill or you've spent too much for something that a cheaper sets of loppers could of handled. If you trim these with secateurs or hedge shears you risk damaging the tool and it is for this very reason that loppers are a must-own tool for you. I always like to think of keeping things simple. A lopper will include two snipping blades and a long handle, which will permit gardeners to reach higher landscaping areas such as tree branches. Anvil pruners and loppers have a blade that closes against an anvil on the lower jaw.
Yard tools like pruning shears and tree loppers each have their own mechanisms for spring back. Some handles are made of soft material while others have contoured grips. In addition to their longer reach, loppers provide more leverage for cutting wider branches. The anvil is a softer metal than the blade. For those who don't know, spring back is the action which happens after you make the cut. The ones with the soft material can be comfortable but have a higher damage risk. In fact, the tool can cut branches that are up to 4 inches in diameter. Bypass pruners and loppers have a blade that sweeps past the lower jaw. If the tool bounces back and pops open with ease, then you have yourself a great branch cutter. The one with grips is a good option, but it may not be comfortable with some people.
There's an important difference between the two. An anvil pruner can snip away dead twigs and branches up to ½ inch. The wide anvil prevents close cuts, but the jaws won't jam up with wood shards the way a bypass pruner can. Choose bypass loppers when you want to trim back an overgrown shrub or tree that's healthy. The long handles give you more leverage, so you can cut bigger stems — up to 1 ½ inches — with less effort.
Benefits of Composting
If you've had trouble getting certain fruits, vegetables or decorative plants to grow in your garden, poor soil structure may be to blame. Additionally, when you make and use compost, you are recycling instead of contributing to solid waste landfills. Compost is not only a soil amendment, it is the soil amendment. Crumbly compost will be sort of fluffy; it does not need to be decomposed to a point of being powdery. Think of it this way: If the soil in your garden is hard and clay-like, young roots have to struggle to get through and obtain the nutrients they need for healthy growth.
So how does compost help nourish, aerate and hydrate soil medium?
Soil with a serious pH imbalance should be treated with lime or sulfur or some other pH-specific amendment, but for most garden soil problems the amendment of choice is always compost.
The original materials that went into the compost pile should no longer be recognizable in finished compost, except for some woody pieces.
If the soil is sandy, it may be lacking nutrients plants need to thrive.
Another advantage of using compost is in its prevention of erosion.
Assuming that you've got average soil with average problems and you can only add one thing.
The temperature of the finished compost should be the same as the outside air temperature, and the material should not reheat. Increases organic matter in the soil which studies show improves maximum yield potential. Compost loosens tightly bound particles in clay or silt, allowing roots to easily spread and thereby impeding erosion. Compost is nature's best fertiliser – it is essentially a group of organisms that live in the soil – bacteria and fungi as well as common garden creatures such as earthworms.
You will see earthworms and other insects now that the temperature is lower. Complements and can enhance the performance of inorganic fertilizers, reducing the overall quantity needed – better for your pocket and the environment. Hand in hand with the prevention of erosion, compost also increases soil's ability to retain water and decrease runoff by encouraging healthy root systems. These organisms help soil remain healthy, and the organic matter found in compost allows essential nutrients to be held in the soil which plants and flowers can then obtain. Always do a soil analysis so that you will know the actual fertility level of the soil.
Agriculture is the biggest market for compost – trials have shown that quality compost can significantly improve the long term health of the soil. Composting provides you with rich organic matter that does wonders to improve the quality of your garden soil. You will know what soil amendments and in what amounts will benefit the crops grown. Whether you sprinkle compost on the surface of the soil or work it in, your garden plants and landscape will grow healthier and stronger thanks to the addition. In a compost bin or heap, dead materials become transformed into substances that nourish new life.